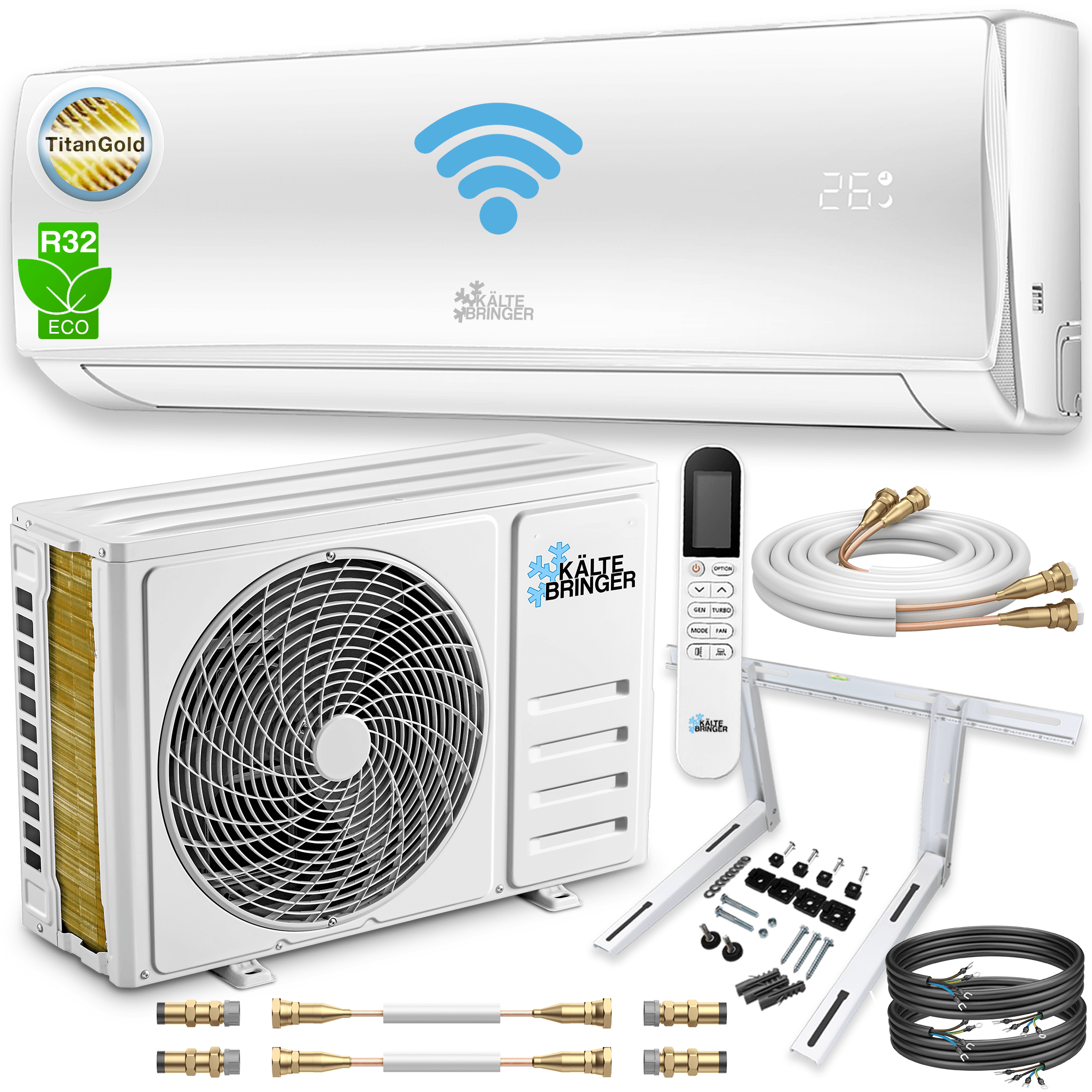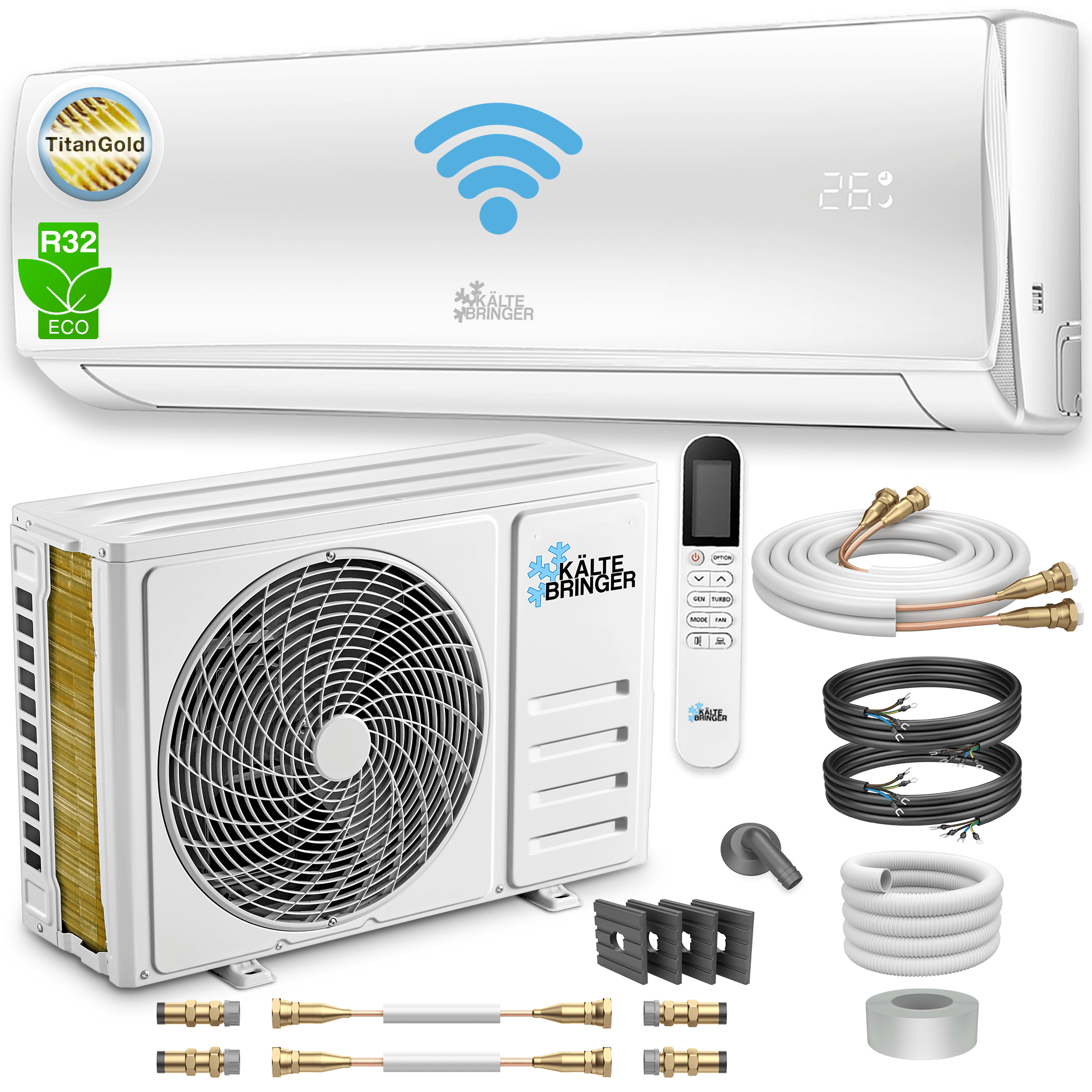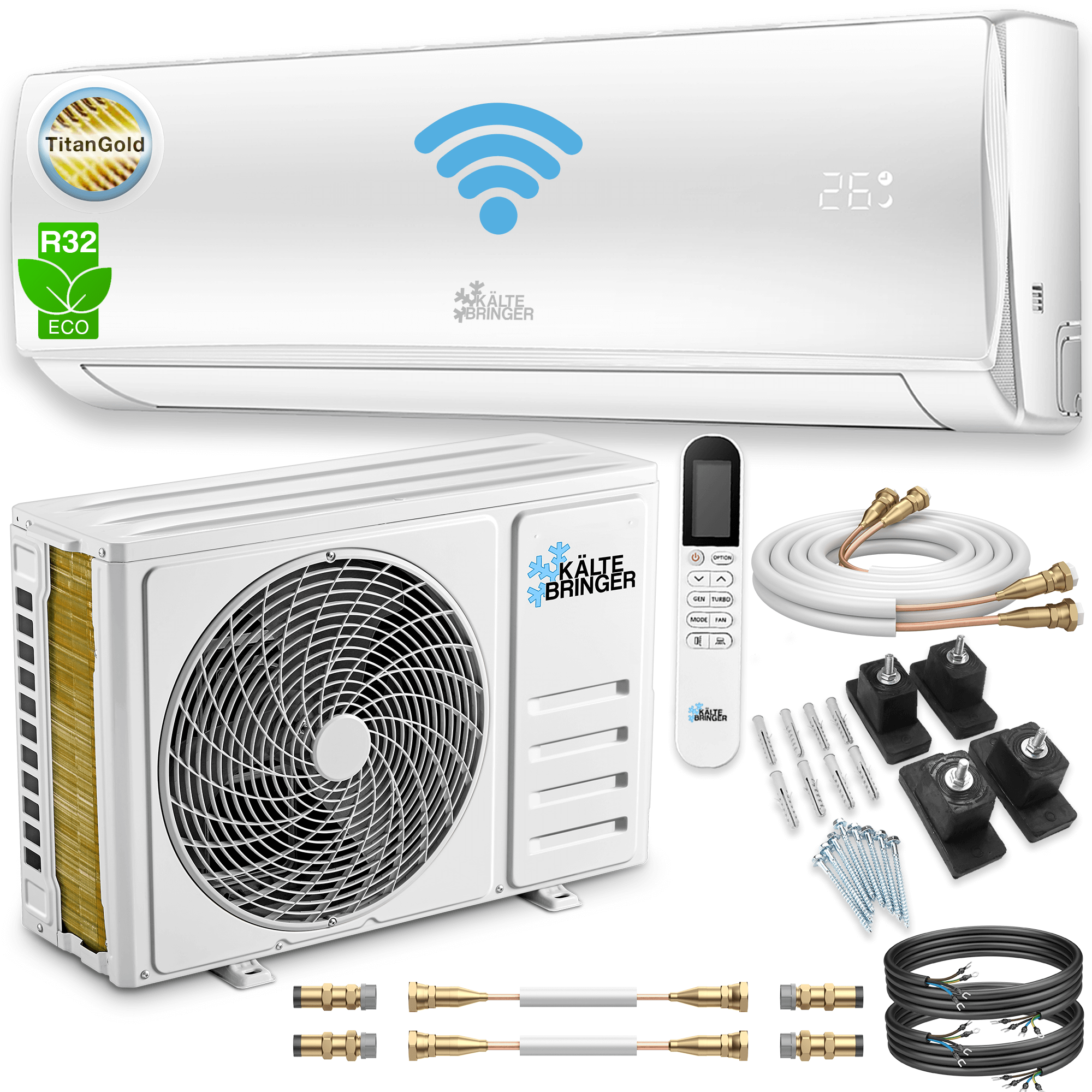 Kältebringer® Split Air Conditioner Quick Connect 3.4kW 12,000 BTU complete set
Produktdatenblatt
Estimated Shipping Widget will be displayed here! (with custom color)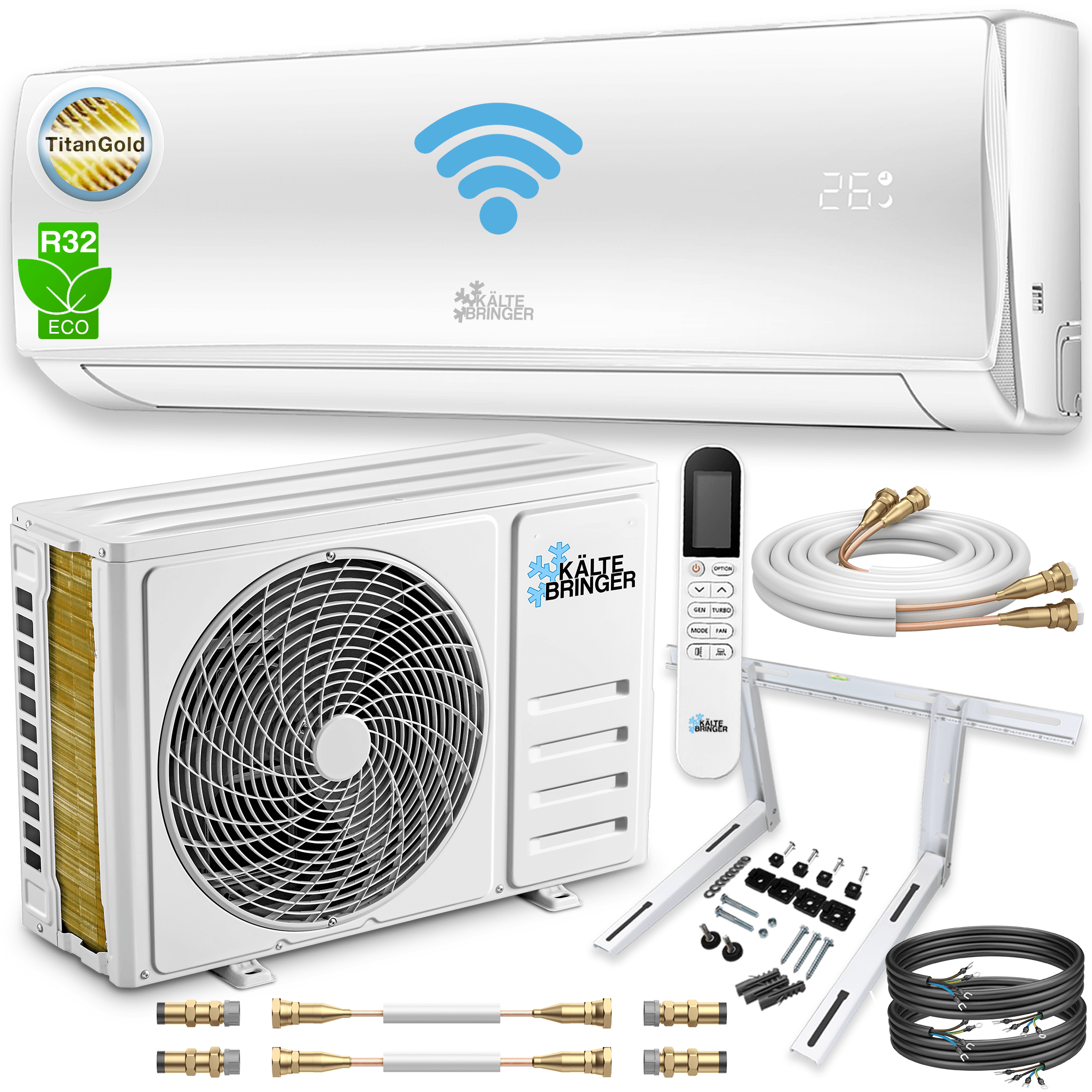 Estimated Shipping Widget will be displayed here! (with custom color)
🌟Quantity discount: From 3 Kältebringer® air conditioners there is automatically a 5% discount!
🏠 With normal insulation suitable for up to 60m ².
The split air conditioner Quick Connect creates a comfortable room temperature, even on hot summer days. With the help of the built-in inverter heat pump, the air conditioner can both cool your room in summer and heat it on colder days.
thanks to the powerful 12,000 BTU and the pre-filled R32 coolant, every room can be cooled down to your desired temperature within a very short time. The air conditioning remains very quiet . With the sleep function, it also runs particularly quietly at night. With a volume of only 19 dB, the indoor unit is then hardly perceptible and you can enjoy a peaceful and restful sleep.

Our air conditioners are equipped with high-quality filters, what a pleasant room climate cares. Activated carbon filters are essential for eliminating unpleasant odours, gases and nicotine smoke. It also collects smaller dust particles and prevents allergies and the spread of pollen. In the further filtering process, bacteria, fungi and microbes are destroyed.

The indoor unit has an automatic self-cleaning and protects itself from viruses, bacteria & mold with the help of this process. This prevents unpleasant odors. The heat exchanger is by high quality and durable TitanGold® particularly corrosion-resistant. This protects the air conditioner from rusting and provides optimal performance. This increases the longevity of your air conditioning system and improves the indoor climate.
With the pre-installed WIFI module , you can connect the air conditioner to the smart home so that you can conveniently and flexibly control the temperature from anywhere using Alexa, Google Home or our app. Since the same smart chip is installed in our products, several air conditioners can also be used in one app or via the smart home being controlled.

Setup and commissioning are particularly easy. Thanks to the supplied Quick Connector CU pipe & the power connection, no vacuum pump is required for the installation of the system. This saves a technician a lot of work and he can therefore install and commission the air conditioning system in a short time. The assembly material (screws & dowels) and operating/assembly instructions are included already included in the scope of delivery .

You can also easily connect the outdoor unit with our wall mount or the feet mount at your desired location.
Benefits and Features:
LED temperature display
antibacterial fins
Automatic restart
memory function
3D Airflow Horizontal and vertical movements possible for the slats
Automatic detection of refrigerant leaks
Automatic defrost
temperature compensation
Anti-cold air function
ECO/Turbo & Sleep Mode
clock
2-way condensate drain
Cooling at low ambient temperatures
thermal heat shutdown at -25
high-density bio filter with vitamin C against pollen/dust or similar
low volume, both for the indoor unit and the outdoor unit
Recommended living/usable space: up to 60m²
Power consumption: cooling in W
Power consumption: heating in W
Energy efficiency class (cooling/heating)
Annual electricity consumption in kWh* (cooling/heating)
Sound pressure level indoor unit in dB(A) (sleep mode, low, medium, high)
Sound pressure level outdoor unit in dB(A)
Setting range indoor unit in °C
Working range cooling in °C
Working range heating in °C
dehumidification in liters/hour
Air circulation indoor unit m³/h
Refrigerant / Amount / GWP / CO2 Equivalent
Diameter refrigerant lines
Pressure side Liquid: 1/4''
Suction Side Gas: 3/8''
Indoor unit dimensions in mm (WxHxD)
Dimensions outdoor unit in mm (WxHxD)
Weight in kg (indoor unit/outdoor unit)




5m 2-way insulated copper tubes

connecting cable and mounting material

Operating and assembly instructions

indoor unit
Modern design meets advanced technology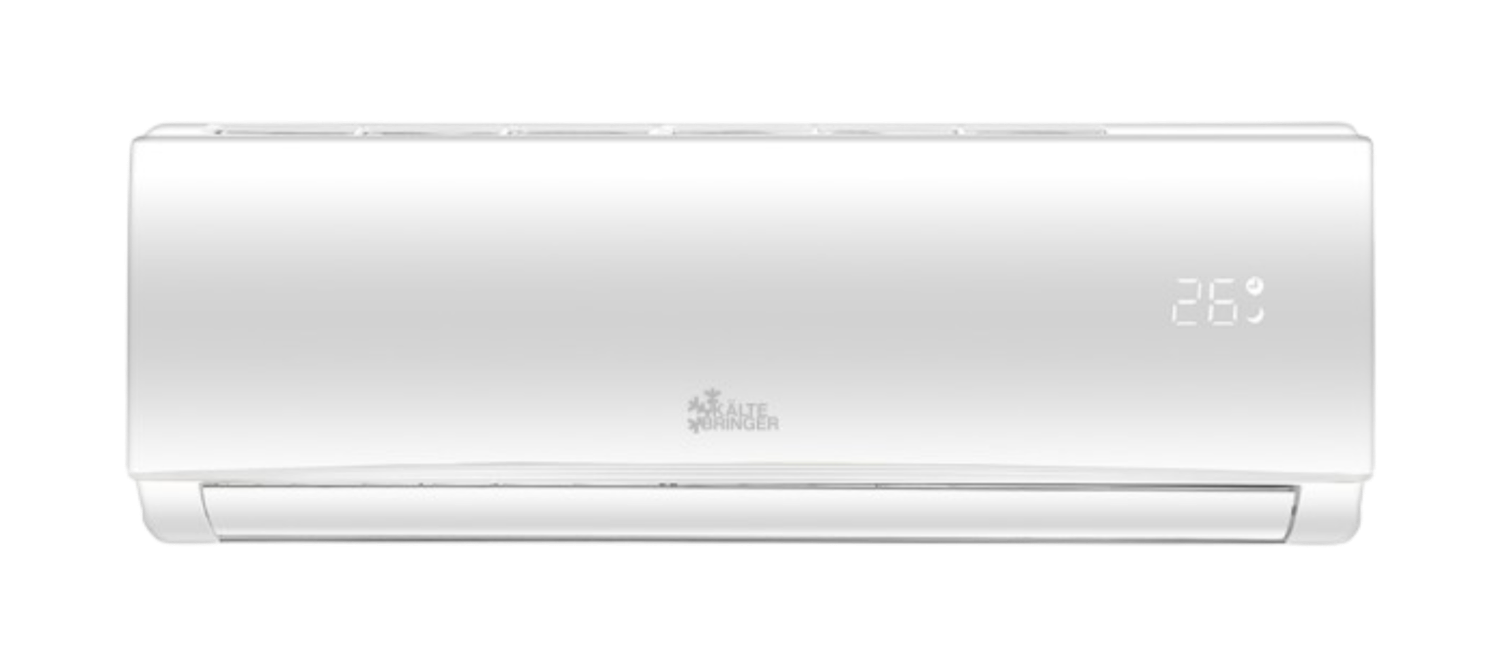 Smart Home
Control your air conditioning conveniently via app or Amazon Alexa
3D Airflow
Horizontally and vertically adjustable louvers for better air distribution.
Advantages
the cold bringer split air conditioner with Quick Connect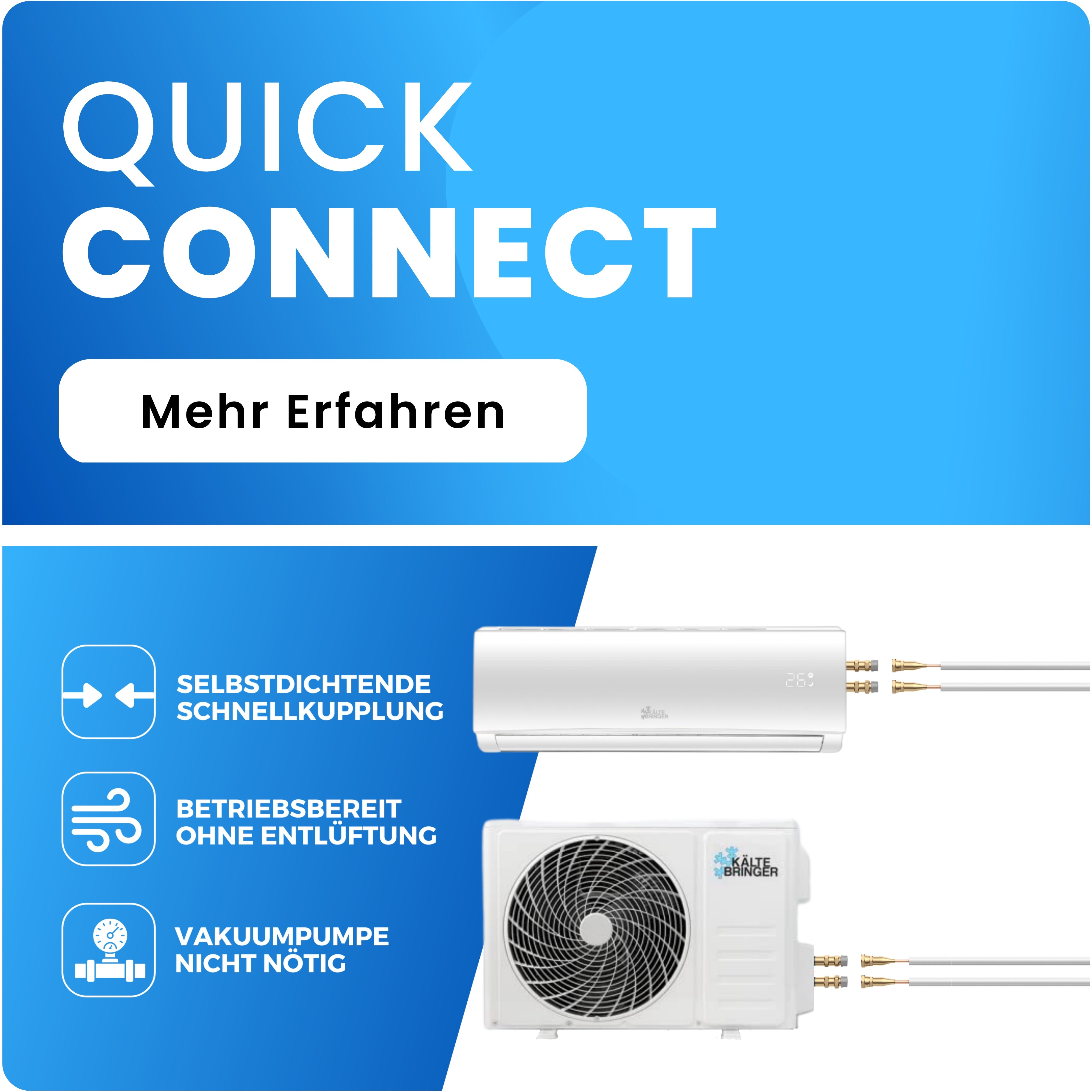 QUICK CONNECT
Thanks to the simple PLUG & PLAY connection system, installation is quick and easy. The air conditioning and lines are already pre-filled with refrigerant and evacuated.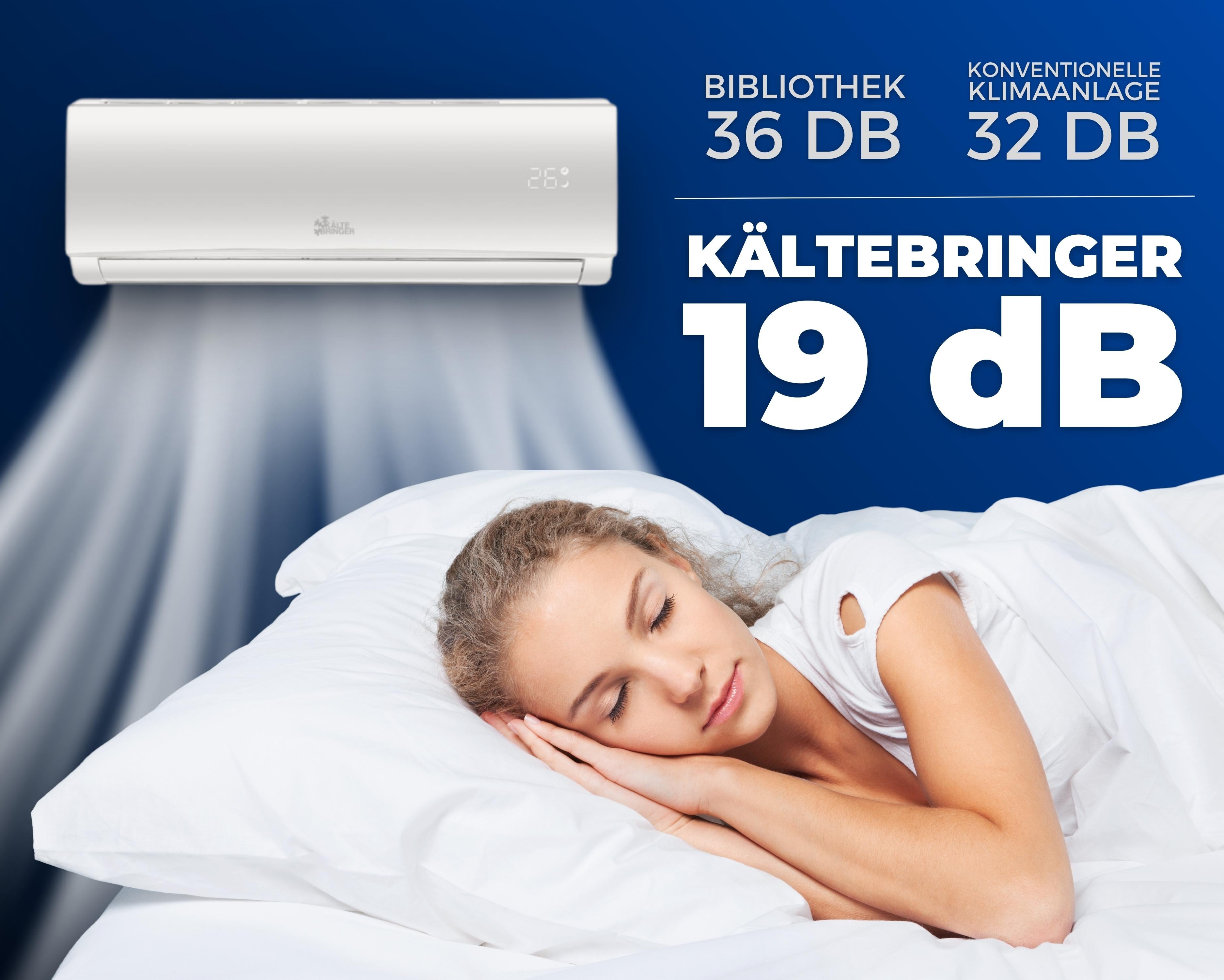 SLEEP MODE
With the sleep function, your air conditioner runs particularly quietly at night.
With a volume of only 19dB, the indoor unit is barely perceptible and you can enjoy a peaceful and restful sleep.
COOLS AND HEATS
You have setting options for both summer and winter.
The device can heat energy-savingly in winter and cool the room in summer.
WIFI & SMART FUNCTION
Thanks to the already installed WiFi module, you can control your air conditioner on the go via app or smart home. (Only with 2.4GHz WIFI)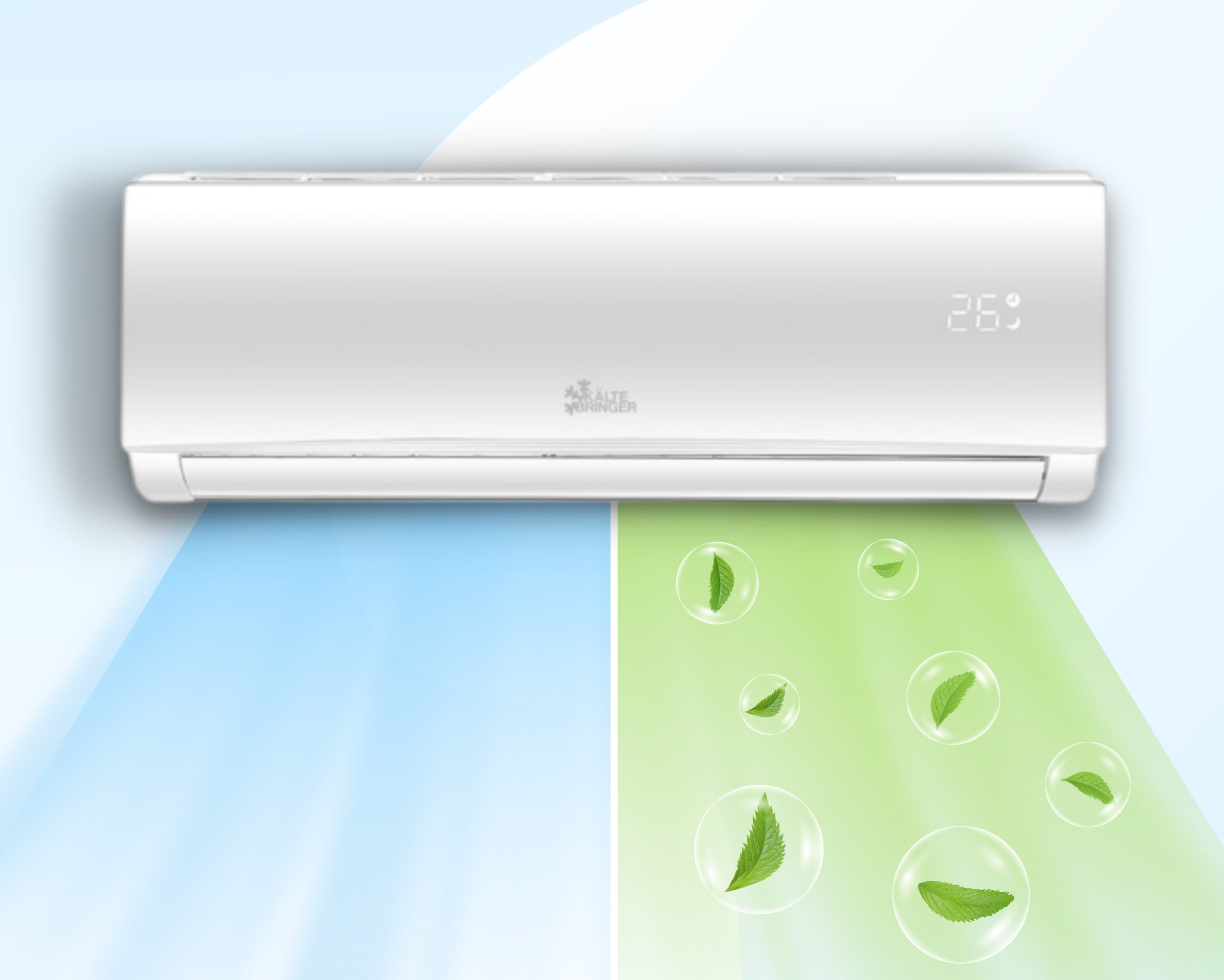 VENTILATED AND DEHUMIDIFIED
With the possibility of dehumidification, you can determine the desired humidity of the room, you can also use the device only for pure ventilation.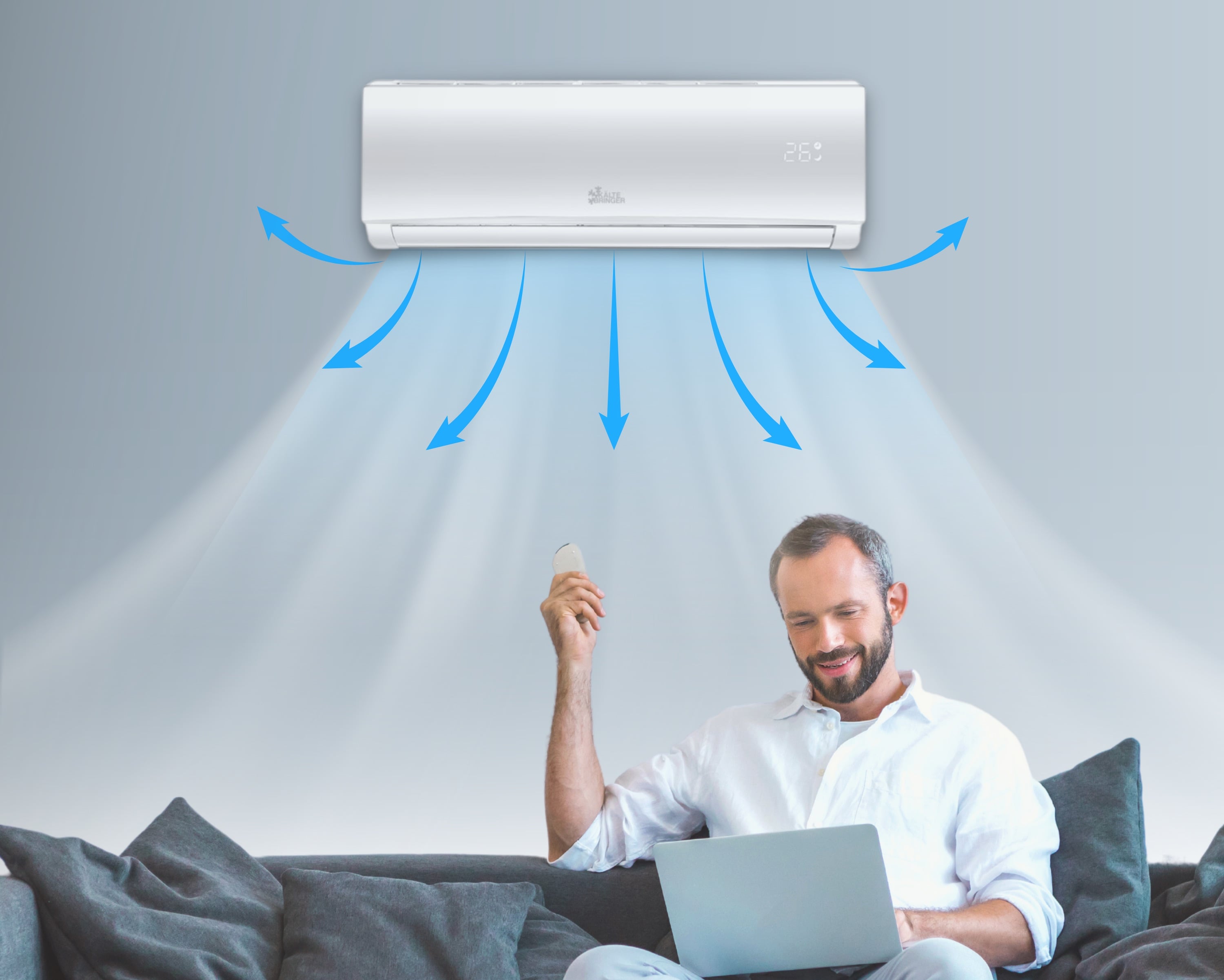 3D AIR FLOW
Thanks to the horizontally and vertically movable slats, the air flow can be efficiently distributed throughout the room. This leads to an even distribution of cool or warm air, creating a comfortable indoor climate.
Photocatalysis filter
In combination with the self-cleaning of your air conditioning system, it filters viruses and bacteria from the room air.
Catechin filters
This pre-filter catches larger particles or animal hair, for example.
Activated carbon filter
Unpleasant odors and pollutants are reliably filtered out of the air with the activated carbon filter.
Silver ion filter
Fights and neutralizes allergens & bacteria and captures smaller particles than dust & pollen
Anti dust filter
Ensures a dust-free air supply
Vitamin C filters
Releases vitamin C and enriches the air in the room.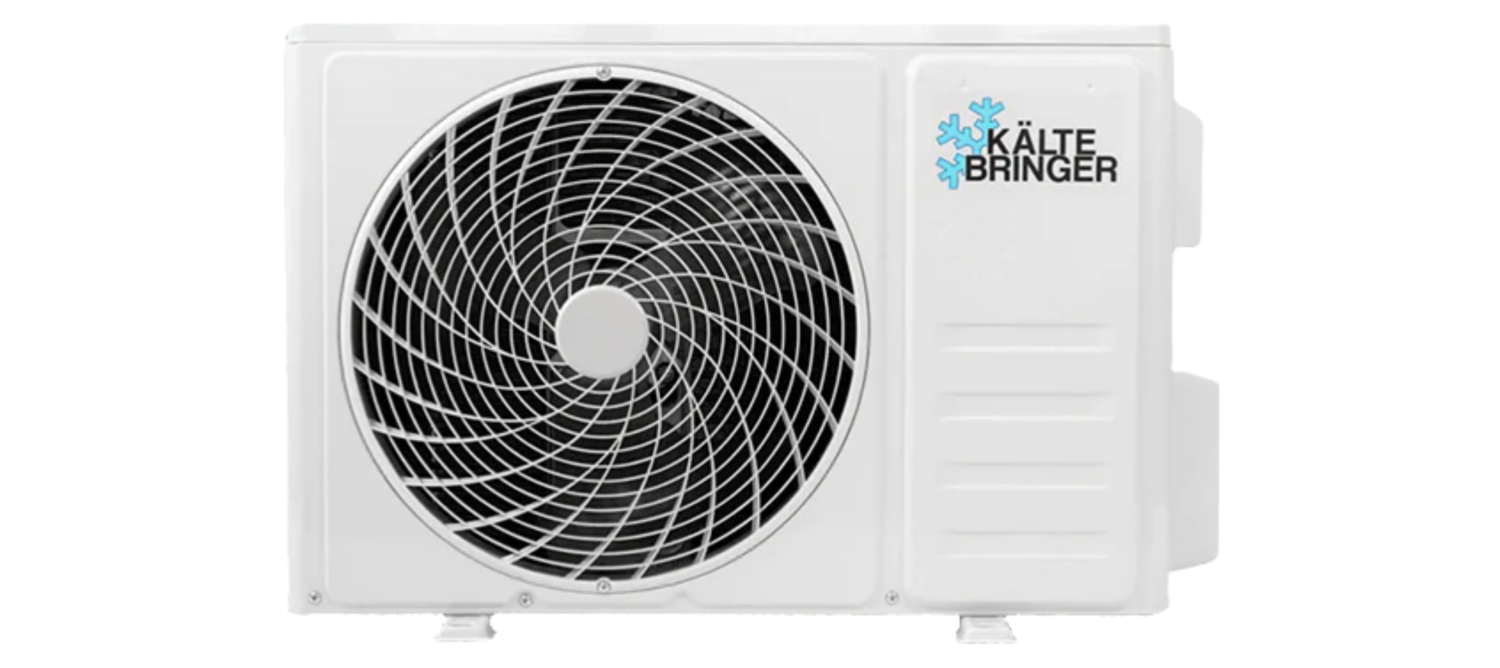 Low volume
Both the indoor unit and the outdoor unit of the Kältebringer split air conditioner work at a low volume
Frost protection
Thanks to built-in heating wires, the cold bringer outdoor unit heats from 0°C for perfect functionality
Small dimensions
Despite its extensive functionality, the outdoor unit is kept small compared to competing products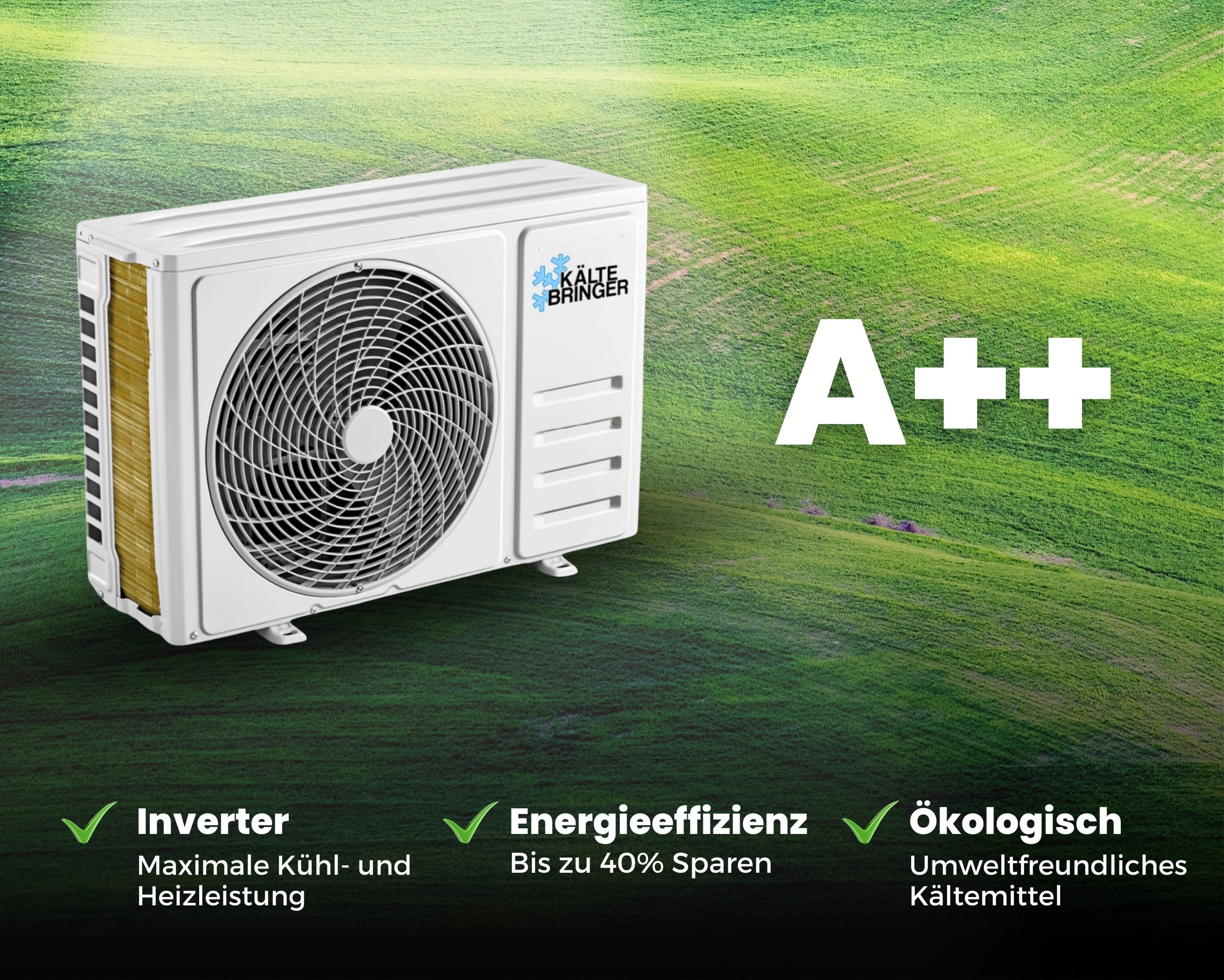 EFFICIENT AND ENERGY SAVING
Our air conditioners have up to 70% lower energy consumption compared to similar models, while offering 40% faster cooling and heating performance. With the help of the groundbreaking inverter technology, the desired room temperature is continuously maintained without frequent switching on and off.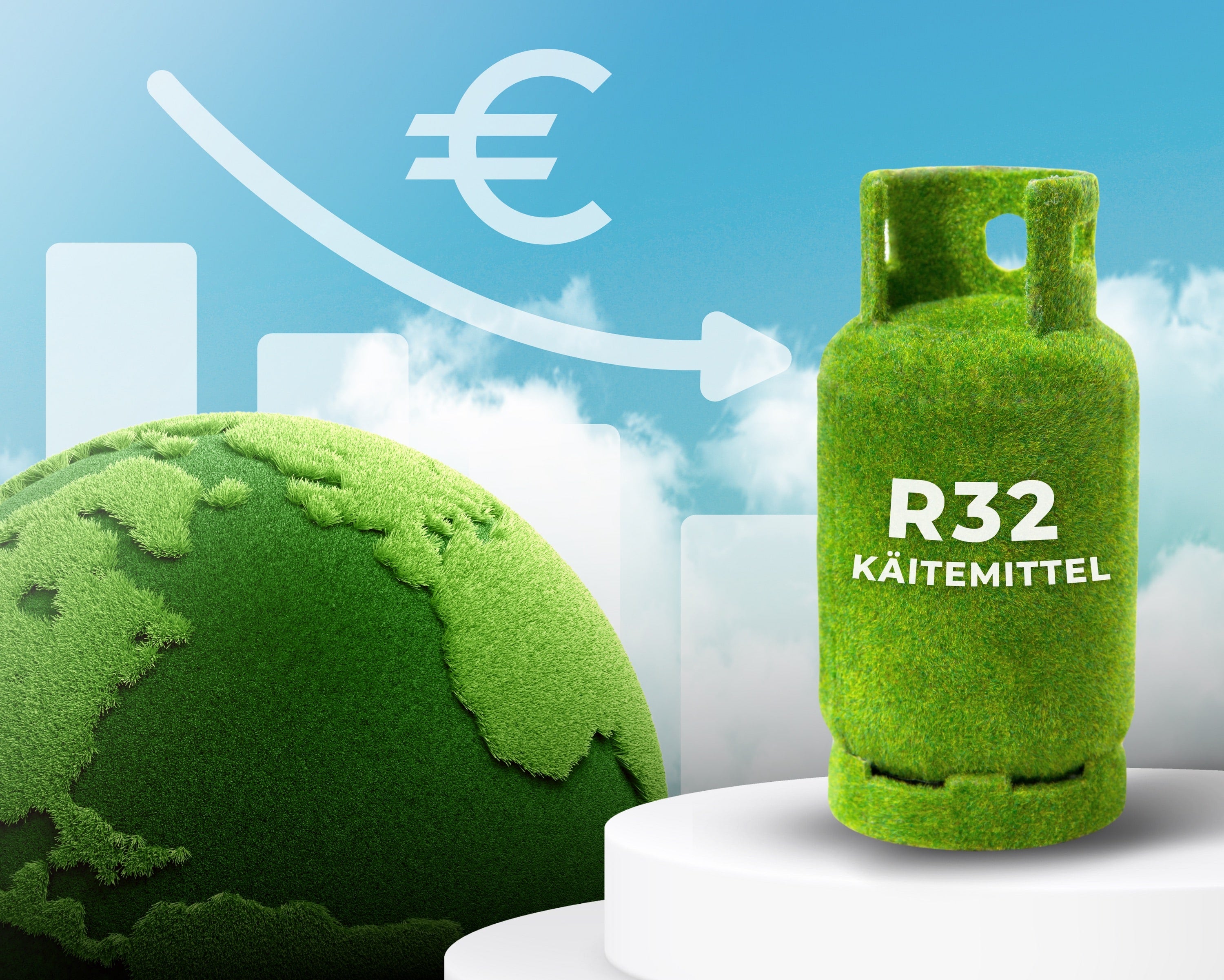 ECOLOGICAL REFRIGERANT
Our cooling system uses the pre-charged refrigerant R32, which is significantly more efficient than other suppliers due to its high compression and low charge. The use of this refrigerant minimizes the impact on global warming and enables a perfect indoor climate. In addition, the use of R32 also contributes to combating climate change.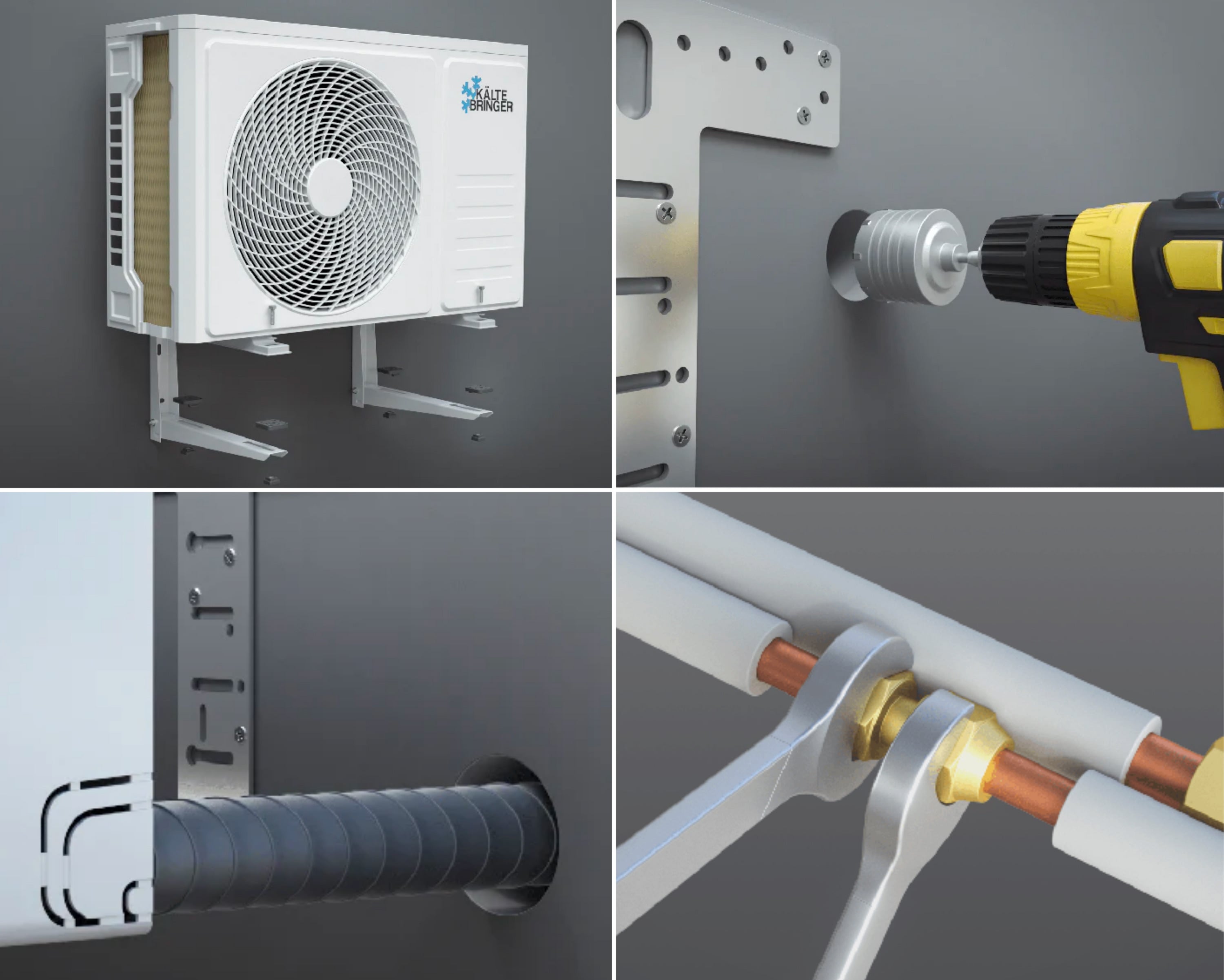 EASY CONSTRUCTION
Setup and commissioning are particularly easy. The assembly material and operating/assembly instructions are already included in the scope of delivery. A technician can therefore install and commission the air conditioning system in a short time.

For guidance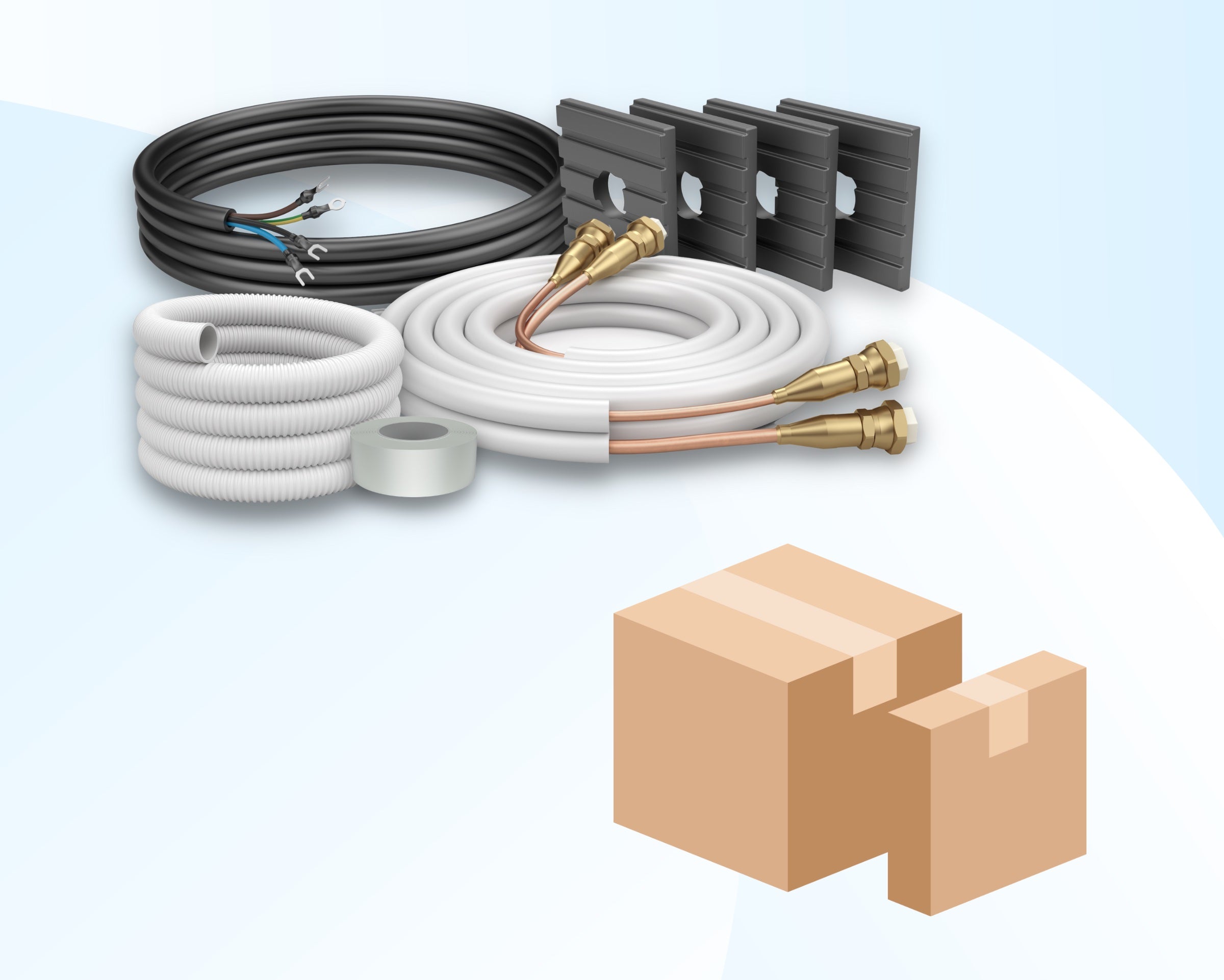 COMPLETE SET
Incl. necessary accessories, copper pipe, connection cable and much more. to ensure worry-free and quick installation. For your air conditioner you can choose between wall mount, floor console and without mounting.
Shipping in multiple packages. Parts of this product can be sent separately.
This product is rated 4.9 of 5.0 stars.
It has received 254 reviews.
klimaanlage ohne support
Schnelle und komplette Lieferung. Montageanleitung nicht auf dem neusten Stand und Stückliste war nicht vorhanden. Leider funktioniert die Anlage noch nicht und kein Rückruf der Technik und bisher kein Support auf der Hotline (nur kfm Mitarbeiter). App Bearbeitung sehr hakelig.
Daher noch keine abschließende Bewertung.
Top
Leichte Montage, funktioniert super. Kupferrohre könnten kürzer angeboten werden.
Top
Alles top, schnelle Lieferung. Montage war prima, würde wieder bestellen.
Klimaanlage funktioniert sehr gut
Montage ist super einfach. Die Verbindungsrohre sind leider etwas empfindlich wenn man einen engen Bogen verlegen möchte.
Klimaranlage alles Perfekt!
Klimaanlage habe ich montiert und Elektrisch angeschlossen Probelauf alles Funktioniert reibungslos.
Is there more or less than 5 meters of line?

Unfortunately not, but individual requirements can be implemented by your technician.
Does the order come in multiple packages?

Depending on the accessories, you can get up to 3 packages per set.
Didn't find your question? Make yours and our customer services will answer them.
Also available online at